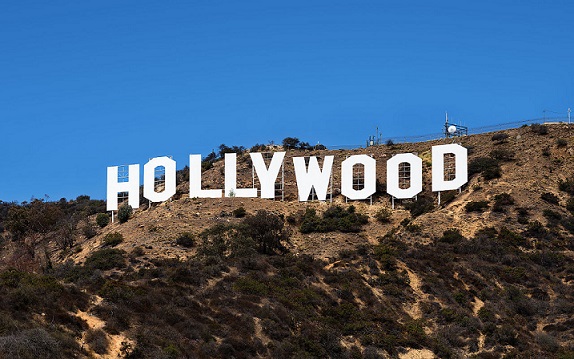 The Hollywood Sign is one of LA's most famous landmarks and is one of the most recognized landmarks in the world.

History of the Hollywood Sign.
The 50-foot-tall billboard, placed on Mt. Lee 1000 feet above the city, was originally lit with 4,000 light bulbs. It was only designed to last until all the property was sold, which they expected to be about 18 months. Nevertheless, until 1939, the company paid for a caretaker for the sign (1), who lived in a cottage behind the first L. When they ran out of funding for the caretaker, the sign fell into disrepair, so the developers deeded the land north of Mulholland Highway, including the Hollywood Sign to the City of Los Angeles in 1944 and it became part of Griffith Park.

In 1949, the City of Los Angeles was beginning to tear down the dilapidated sign when community outcries changed the plan and led to the sign's restoration, minus the LAND and minus the lights. In the 1970s, the sign was once again in bad shape. Hollywood's A-list rose to the challenge and various celebrities helped foot the bill for a complete restoration. Alice Cooper sponsored an O, Gene Autry paid to rebuild an L and Paul Williams put up the cash for the W. The famed landmark got its most recent paint job in 2006.

In 2010, a large chunk of Mt. Lee came under threat of development after the Howard Hughes Estate sold a large parcel of land there to Chinese developers. A fundraising campaign which covered the sign with the words "Save Our Peak" successfully raised enough money to buy the land and add it to the adjacent Griffith Park, protecting the cherished view for future generations.
Best Places to See the Hollywood Sign On a clear day, the Hollywood Sign is visible all across the Los Angeles Basin, including from Downtown high-rise buildings, and even from Signal Hill, almost 30 miles south (through the coin telescopes at least).
Driving or walking around Hollywood Blvd, you can look north at just about any intersection and see the sign, but the following pages offer some special viewpoints with great photo opportunities to get a nice shot of the Hollywood Sign.
Other Viewpoints

Griffith Observatory
Griffith Park Hiking Trails
Hollywood & Highland
Sunset Ranch Hollywood
Barnsdall Art Park