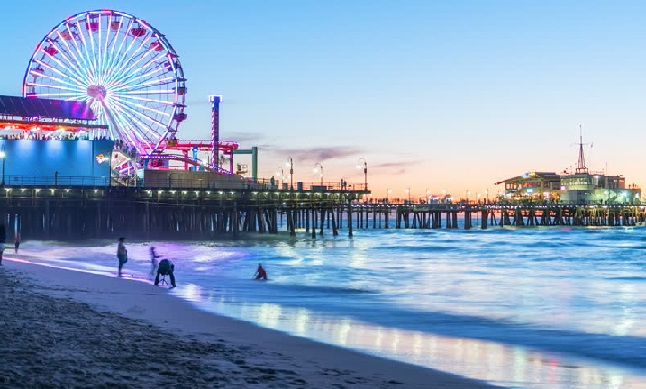 SANTA MONICA
Located just west of Downtown Los Angeles, Santa Monica beach is an iconic example of the famed Southern California beaches. With few Los Angeles beach options offering both large expanses of beach, bike trails and nearby activities, Santa Monica Beach has exactly what you're looking for.
ourists and visitors come to the Santa Monica State Beach because it:


is large, at 3.5 miles in length
has a maintained, soft sand beach
is within walking distance to popular hotels, shops and restaurants
offers a variety of activities and attractions
is an iconic beach in Southern California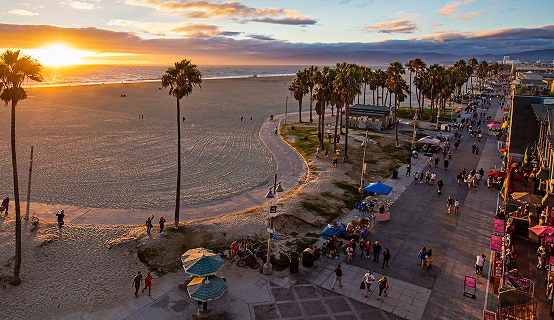 VENICE BEACH

When you go to L.A. you have to go to the beach. Venice Beach has a lively boardwalk with colorful crowd; you can find rollerscaters, artists, palm readers and street dancers, performers and vendors of any sort.

Venice Beach is a great place to spend an afternoon. This historic beach has transformed itself through the decades to become a true icon of counter-culture and it has influenced many legendary performers and societal movements. Today, the vibrancy of Venice Beach is undeniable. The boardwalk and beach is famous the world over and every sun-filled day brings visitors flocking to take full advantage of the opportunities to shop, dine, enjoy outdoor sports, or just people watch. There are a multitude of attractions and something to appeal to every visitor.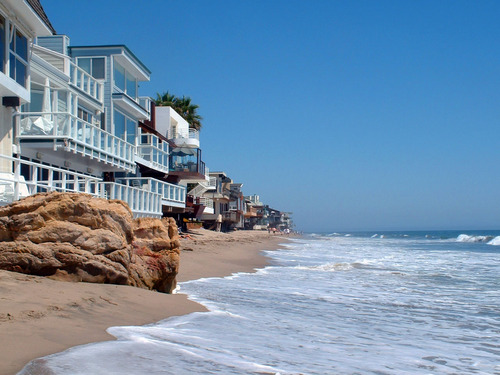 AMARILLO BEACH - MALIBU'

Amarillo Beach is the official name of the eastern beach along Malibu Road in Malibu, CA. This is the beach on the point below Malibu Bluffs Park. East of the point the beach is very rocky and west of the point there is a narrow sandy beach. Several public access corridors have been provided between homes along Malibu Road. There is a storm drain here at this access so don't swim in the ocean w hen the drain is flowing. The hillside above Malibu Road has trails that lead up to Malibu Bluffs Park for a nice hiking opportunity. Look for a trailhead signed "Santa Monica Mountains Conservancy Zone Parkland" along Malibu Road. At high tide there is little or no beach to enjoy at Amarillo Beach. The public beach here is below the mean high tide level in some places and below the homes in others. Just allow the homeowners some space when putting down your towel to be safe and considerate. Interestingly, M alibu Road only can be entered at the east end at Webb Way. Parking is available on the road shoulders near the gates. Be careful not to block any driveways.